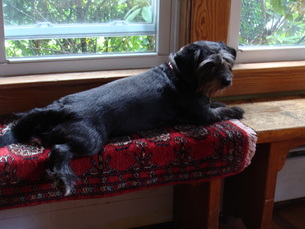 BEDDING & TOYS:

Guests are encouraged to bring their own washable blankets and comfort toys from home if desired. Dog beds are provided. We ask that you refrain from sending "best" toys or items that are intensely meaningful to you or your pup as these items may become damaged or lost when shared with friends.
---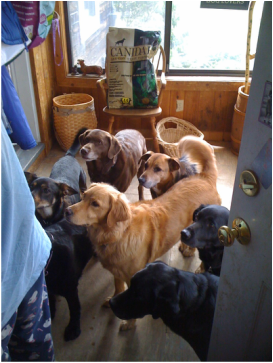 FOOD, MEDICATIONS/SUPPLEMENTS:

Guests should bring their own food, medications and supplements. These items should be labeled clearly with your pet's name and feeding/dosing instructions. Supplements and medications, including injections, are administered at no extra charge. PLEASE DO NOT SEND FOOD BOWLS. It is helpful to limit ad – ins at meal times to one or two essential items. Feeding time is naturally a very important and exciting time of the day for the pups. Extra steps slow the process down significantly, making wait times longer and creating unwanted frustration and tension. A simple, efficient feeding routine helps keep everyone happy and satisfied, that's our goal.
Because dogs can sometimes be a bit finicky when eating in an unfamiliar place,
the addition of GRAVY ( a tablespoon or so of a good quality canned food mixed with a little warm water ) can be a very helpful tool to encourage appetite. Here at Bed and Bowl, WE BELIEVE IN GRAVY. Dogs love gravy. Gravy makes dogs happy. Gravy is a nice thing to do. Just one can = a week of happiness. Please send a can. Pull tops are preferred over cans that require a can opener.
---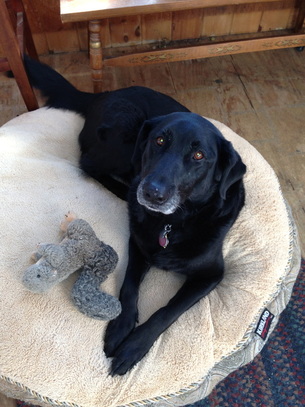 CRATES / CRATE TRAINING:

Bed and Bowl is primarily a cage free boarding facility however, we recognize that conditions exist in which a crate may be a useful tool in providing safety or comfort. If your dog craves the emotional security of his or her crate, by all means feel free to send one. Additionally, we recognize that some dogs may on occasion engage in "dietary indiscretion." Whether you have a teething puppy, an anxious nibbler, or a recreational chomper, crating may be essential for the physical safety and well being of your dog. Indiscriminate chewing is dangerous. Please inform us of ANY history of chewing, shredding or counter surfing that may pose a risk to your pup.


SUITABILITY:

Unfortunately, Bed and Bowl is unable to accommodate dogs struggling with any type of aggressive behavior, resource guarding, small animal predation, or history of fighting.

---